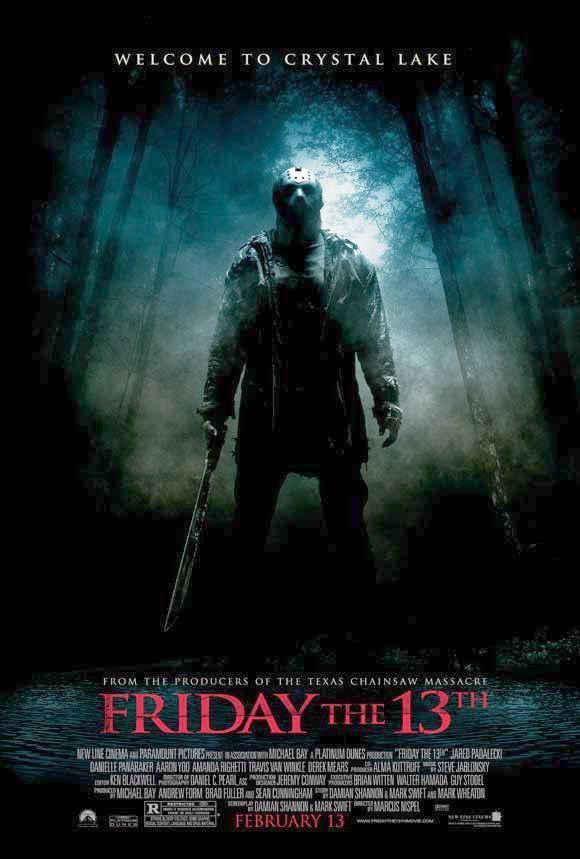 Summary wrote:On June 13, 1980, a young Jason Voorhees watches as his mother Pamela is beheaded by a camp counselor, who was trying to escape Mrs. Voorhees's murder spree around Camp Crystal Lake. Almost thirty years later, a group of friends— including Whitney Miller —arrive for a camping trip at Crystal Lake, where they hope to find a crop of marijuana growing in the woods. That night, an adult Jason kills everyone except Whitney, whom he captures as she resembles his mother at a young age.
Wikipedia wrote:Friday the 13th was theatrically released in the United States on February 13, 2009, by New Line Cinema in North American territories and by Paramount Pictures internationally. The film received generally negative reviews from critics, who felt that it did not add anything new to the franchise. The film would go on to gross $92.7 million at the box office on a budget of $19 million, becoming the second-highest-grossing film in the franchise after Freddy vs. Jason.
Writers & Directors
Friday the 13th is a 2009 American slasher film.
Directed by Marcus Nispel
Written by Damian Shannon and Mark Swift from a screen story by Shannon, Swift and Mark Wheaton.
The Cast
Jared Padalecki as Clay Miller

Danielle Panabaker as Jenna

Amanda Righetti as Whitney Miller

Travis Van Winkle as Trent

Aaron Yoo as Chewie

Derek Mears as Jason Voorhees

Caleb Guss as Young Jason Voorhees

Jonathan Sadowski as Wade

Julianna Guill as Bree

Ben Feldman as Richie

Arlen Escarpeta as Lawrence

Ryan Hansen as Nolan

Willa Ford as Chelsea

Nick Mennell as Mike

America Olivo as Amanda

Kyle Davis as Donnie

Richard Burgi as Sheriff Bracke

Nana Visitor as Pamela Voorhees

Kathleen Garrett as voice of Pamela Voorhees

Stephanie Rhodes as Camp Counselor

13th Anniversary
From Feburary 13th 2009 til today of Feburary 13th 2023 marks this the 14th Anniversary for this remake! Lets hear how you all feel about this remake!!
OCT 31 1978 likes this post
hard to believe it's been that long

movie is ok

it's a late night summer i'm bored type movie



jasn88cubs

Second Class




Posts : 481
Join Date : 2020-08-06



It's actually one of my Favorites in the series to be honest!! It has all the great call backs to the first 4 F13 films!! Love the cast and look of Jason in this as well! Brutal AF!!

OCT 31 1978

First Class




Gender :
Posts : 656
Join Date : 2020-11-03



I really liked this entry in the franchise. I enjoyed the idea of tunnels, actually. I think the whole idea of kidnapping the one final girl was a bit off though. I wasn't a big fan of parts of the opening sequence.

ThePunisher

Second Class




Age : 54
Gender :
Posts : 388
Join Date : 2021-06-06
Location : Camp Crystal Lake



OCT 31 1978 likes this post
I truly love this remake! This, My Bloody Valentine, Texas Massarce, and Halloween are the best in the remake genres.
OCT 31 1978 likes this post
---
Permissions in this forum:
You
cannot
reply to topics in this forum