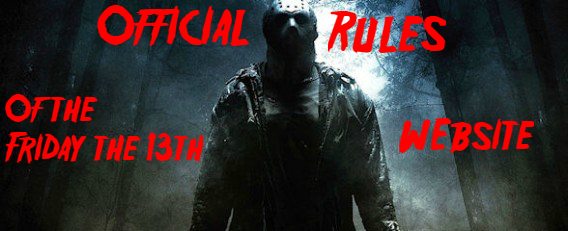 Offcial Rules
1. Users will and must show some respect for both the staff and other users of the site!

2. Users are prohibited from uploading or posting any type or kind of Sexual and/or pornographic content!

3. Users are prohibited from posting Hateful or abusive content to the forum!

4. Users are prohibited from posting Defamatory content and/or affecting the integrity of a person! (Unless they are Pedophiles!)

5. Users can't Sale/exchange medication that requires a prescription from a licensed practitioner/medicines without prescriptions!

6. Users are prohibited from posting about Drugs and or any other illicit substance!

7. Users are prohibited from uploading or post any Copyright infringement properties!

8. Users are prohibited from posting about Hacking of any kind or type!

9. Users are prohibited from Spamming the forum with the same discussions multiple times in a row!

10. Users are prohibited from posting anything about a Phishing or malware website!

11. Users will not commit any type or any kind of Credit card fraud!

12. Users will not ignore official staff warnings when given to them!

13. Users are not allowed to use Sockpuppet accounts. (Multiple Accounts to avoid a ban or to cheat a specific feature.)



Consequences

[b]Users will be given 3 Pre-Warnings before an official ban is given to you!

: No Warnings

: Ban for a Day (24 Hours or 48 Hours)

: Ban for a Week (7 Days) or Two Weeks (14 Days)
: Ban for a Month (Default 30 Days) or 2 Months (60 Days)

: Permanent Ban from the website!
(USERNAME/IP BAN IF YOU TRY TO SOCKPUPPET!!)
Users should know this is official and this won't change...if you want to revoke your pre-warnings then make an apology in the
Requests
section of the forum.
Ad Promotions!
Promotions
<- Click Here to Buy or Sell Items!
What are the rules?
Members may Sell or Buy Masks, Shirts, DVDs, Costumes, Toys, Games, and even Jewelry only! and SELLING OF ILLEGAL ITEMS! SUCH AS DRUGS OR 18+ OBJECTS ARE PROHIBITED ON THIS SITE! and if a Member selling is lying or even committing fraud about an item they are selling then the member who brought the merchandise can and may call the
AUTHORITIES
as we don't condone or promote
FALSE ADVERTISING
!
Disclaimer about Promotions
We do not KEEP any money made by the seller! the money is purely and only kept by the INDIVIDUAL themselves! WE DO NOT DEMAND OUR MEMBERS TO PAY US FOR USING OUR PLATFORM! IF MONEY IS SENT IT'S USED PURELY AND FOR THE WEBSITE!
(IF THE INDIVIDUAL CHOOSES TO GIVE US MONEY THEN THAT IS THEIR FREE WILL!)
What Topics are and Aren't Allowed?
People have asked or questioned what members can and can't discuss on this forum and that's something that is going to be discussed here.
Allowed:


Other Horrors: There is a separate forum section to talk about topics outside of F13 relating to discussions.

Fanfic/FanArt: Discussion about fanfic and fanart is allowed.

Debating: Any and all forms of civil debating is allowed.

Promotion: Note this is only for F13/Horror related content nothing outside of it will be allowed.

In-Between:


Politics: This is something that is debatable, I personally don't care for politics, but others do and it will only be allowed if an assigned Administrator/Moderator creates the post so DM a Staff member before making ANY POLITICAL POST.

Trolling: Alright, this subject is 50/50 but there is a line between trolling with the intent of being funny and trolling with the intent to create chaos if it becomes a huge problem we will act upon it as civil and fair as we can/could but if not...you'll meet the machete! (aka ban!)

Prohibited:


Pedophilia: ANY PROMOTION OF PEDOPHILIA IS PROHIBITED!

Rape: ANY PROMOTION OF RAPE IS PROHIBITED!

Slander: ANY acts of slandering someone with fictitious statements or out of context conversations is not prohibited!

Doxing: Leaking private information or information that someone wants to keep private (unless it's breaking laws of course) is prohibited.

Stalking: Any acts of discussion where you want to stalk or harass someone is not tolerable.

Nudity: Now listen.....Nudity on this forum is a big NO-NO! I asked the official forum support staff from the head website and they state we can't upload any type of Nudity regardless if it's censored or not!

Disclaimer about Nudity
Since the TOS Prohibits Nudity of ANY KIND! If you want to post scenes from the franchise or any other such things CENSOR THE IMAGE! Put a Black Bar on them! And if you don't know this you will be given ONE and ONLY ONE WARNING AND IF YOU POST NUDITY AGAIN KNOWING YOU WERE WARNED YOU ARE PERMANENTLY BANNED FROM THE WEBSITE INDEFINITELY!
Staff Roles,Powers, and Descriptions


Adminstrators (aka Chief Counselors): The Admins/Chief Counselors are the 2nd highest position ranked members (Under the Founder) they rank above the global moderators in power while keeping the same energy of moderation of the forum and keeping it in check.

Counselors (aka Moderators): The Global Moderators of the forum and the 3rd highest position ranked members whose job isn't just to Warn Members but their job is to enforce the rules and police the forum once the Admins aren't online they are their substitutes.

Slashers (aka Chat Moderators): If you break the rules in the chatbox the chat moderators can ban or kick you.

If a Staff is shown to abuse their power on the forum it will be up for a Staff Vote between us all some will be suspended or permanently removed from their role if necessary, report any and all abusive behavior to me @JasonVoorhees
SonofOdin6039 likes this post
---
Permissions in this forum:
You
cannot
reply to topics in this forum