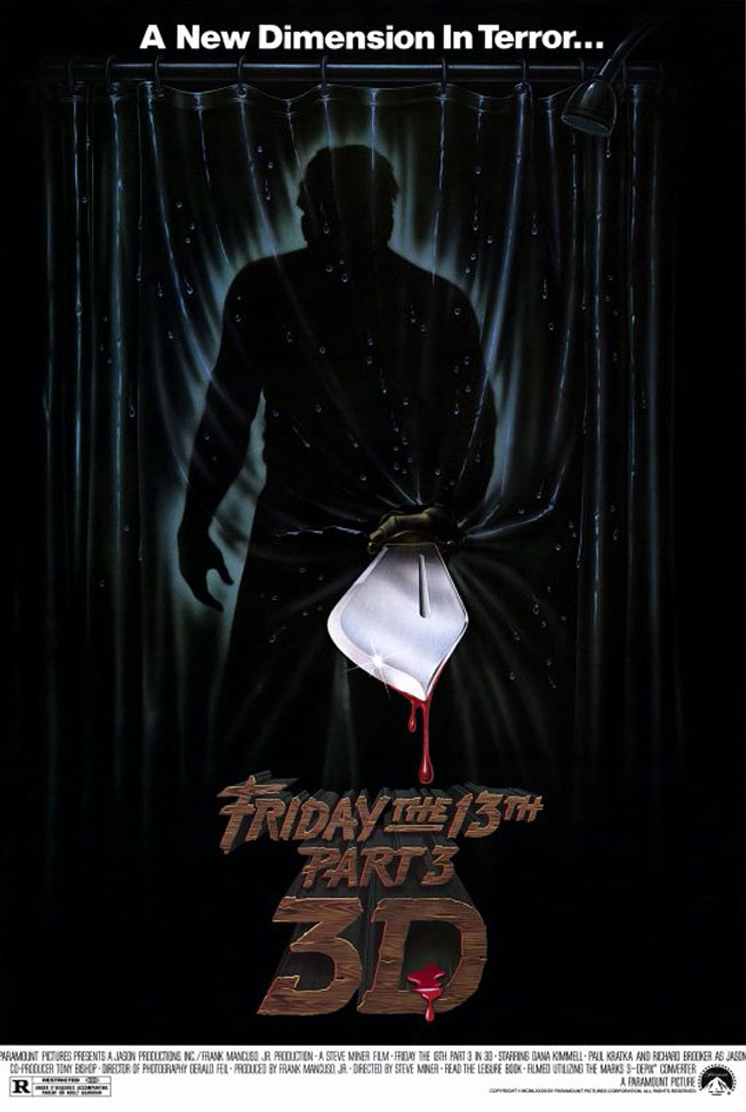 Happy 40th Anniversary to Friday the 13th Part III! Also known as Friday the 13th Part 3 3-D it was released August 13th 1982.
Summary:
Picking up on the day after the carnage with homicidal maniac Jason Voorhees (Richard Brooker) stealing some clothes and killing a local store owner. Meanwhile, Chris Higgind (Dana Kimmell) and her sometimes boyfriend, Rick (Paul Kratka), are hosting a group of teenage friends at Chris' lake house. Despite a run-in with a local biker gang, they enjoy an amiable weekend together -- that is, until Jason begins knocking off kids and bikers alike.
Cast:
Richard Brooker as Jason Voorhees

Dana Kimmell as Chris Higgins

Paul Kratka as Rick

Tracie Savage as Debbie

Jeffrey Rogers as Andy

Catherine Parks as Vera Sanchez

Larry Zerner as Shelly

David Katims as Chuck Garth

Rachel Howard as Chili Jachson

Nick Savage as Ali

Gloria Charles as Fox

Kevin O'Brien as Loco

Cheri Maugans as Edna Hockett

Steve Susskind as Harold Hockett

Perla Walter as Mrs. Sanchez

David Wiley as Abel

Legacy:
Friday the 13th Part 3 is one of the Most recognizable slasher horror film of all time, due to the amazing performance by the late great Richard Brooker which would be the first time Jason Voorhees obtains his Hockey Mask, and defined appearance both cloth and physical body size-wise, this film would also give additional credit to Steve Miner who directed cult classics such as Lake Placid, Last House on the Left, House, and his credits for being apart of the original friday the 13th, and friday the 13th Part 2.
The legacy with this film has given numerous amounts of referrences, tropes, cosplays, and other movie easter eggs, the iconic cream hockey mask or white hockey mask has been shown throughout many incarnations within future films for being the original template and movie molds for them.
Richard Brooker size and design made him one of the many known fan favorites, his mannerisms and body language made him synonyms with the Character throughout many conventions, he was known as a charming and nice man who loves meeting any and all his fans, especially cosplayers.
Founder




Age : 76
Gender :
Posts : 1487
Join Date : 2017-06-24
Location : Camp Crystal Lake



Happy Anniversary to the Friday that introduced Jason to his Hockey Mask!!!

"Chuck: How come you never scream when we have sex?

Chili: Give me something to scream about."
First Class




Gender :
Posts : 606
Join Date : 2020-11-03



A "bridge: movie for pt 2 and 4. It feels rushed but is solid
Second Class




Posts : 437
Join Date : 2020-08-06



I thought the nighttime atmosphere was really good
Second Class




Posts : 437
Join Date : 2020-08-06



The film deserves more credit than what most gives!
Founder




Age : 76
Gender :
Posts : 1487
Join Date : 2017-06-24
Location : Camp Crystal Lake



jasn88cubs and ThePunisher like this post
It's one of my favorites in the series !!
First Class




Gender :
Posts : 606
Join Date : 2020-11-03



jasn88cubs likes this post
---
Permissions in this forum:
You
cannot
reply to topics in this forum