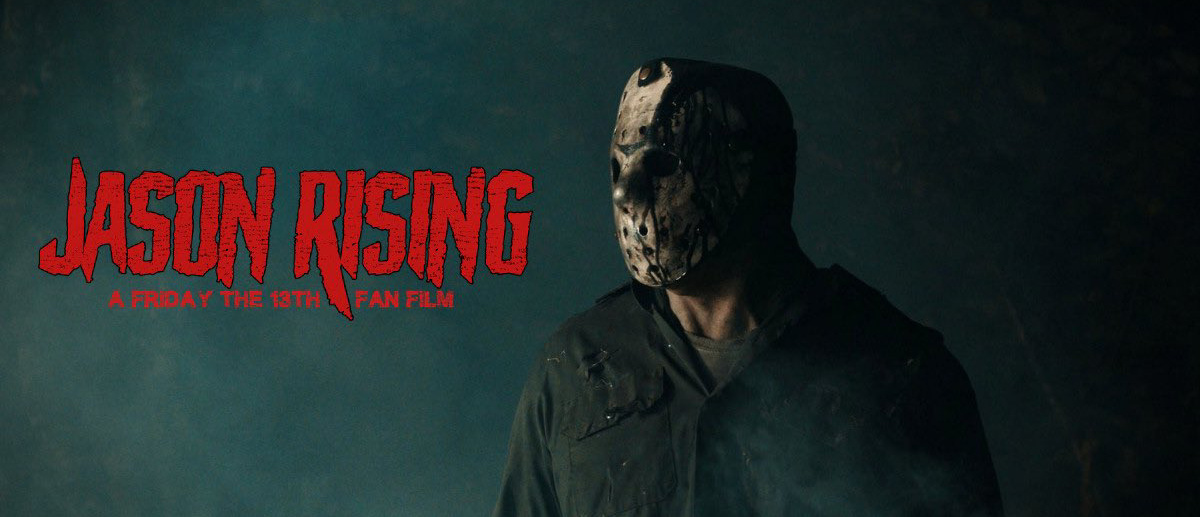 Disclaimer
This review is NOT about pure hate, overall fanboying, or biased views but A PERSONAL and HONEST perception of the fan film Jason Rising! The rating system based on this review is based on a scale of 5 stars each point will be given an official rating, and to remind this is my opinion! I AM NOT A ROTTEN TOMATOES CRITIC I AM A FAN OF THE SERIES! I KEEP IT REAL!
Spoilers Alert
THIS REVIEW WILL CONTAIN SPOILERS FOR THE FAN FILM KNOWN AS JASON RISING! IF YOU DO NOT LIKE SPOILERS DO NOT READ THIS POST BELOW! THIS IS AND WILL ONLY BE YOUR WARNING! SO GO WATCH THE FILM FIRST AND THEN COME BACK AND MAKE UP YOUR OWN REVIEW!
Story
Here is the simple summary:
Summary of Jason Rising wrote:A group of escaped fugitives is on the run they are hunted by an elite group of trackers and bounty hunters but little do they know they are the hunted when they enter the hallowed grounds of Jason Voorhees at Camp Crysta Lake.
In my honest opinion, the "Fugitive" and "Prisoner" is something done within
Voorhees
and
Vengeance
, but mind everyone this isn't a bad thing it can work better for some and not others, but this one played it smart and didn't give them "Backstories" since we wouldn't be rooting for them anyway just gives us a motive of why we shouldn't like the prisoners and why we should root for Jason to off them quickly!
My Rating is a: 3/5 Stars

Action
From the gunplay to the up close and personal kills/combat were amazingly choreographed! whoever idea was it to add the gun conflict, which was mainly seen in Part VI and Part X it's something we don't usually see and I love seeing just how directors/writers would make their interpretation of Jason looking invulnerable and unstoppable
My Rating is a: 4/5 Stars

Jason Actor
Dan Kyle definitely brings his "Ted White" on! the overall nature of Part 4 Jason vs the undead versions in later films was the fact that Part 4 Jason was more mobile and quicker and I believe Dan Kyle truly does match this! his body movement and his aggressive nature helped him nail this role! not just that but the design of the hockey mask truly sells it! the clothing is a more weathered Part 4 which isn't bad BUT it makes up for it given that Dan here has the best height and build for a Part 4 Jason! well done Dan! hope to see you in Jason Rising Part 2?
My Rating:

5 out of 5 stars! I don't need to say much here the guy truly nailed this performance as a silent killer! hopefully, other producers/directors will have Dan here be a new upcoming slasher!
Music
The composer did their best to keep in line with the theme of the franchise, its something most fan films have tried to do their best to keep it as suspenseful and ominous as possible and I believe in my own opinion they kept to what Harry Manfredini wanted for the franchise he helps composed for.
My Rating:
4/5 Stars from me!

Special Effects
As anyone knows, Im a big fan of practical effects gore, and blood, and this film had a very decent amount of Gore, the most poorly given one in the film has to be the spinal rip scene, it looked way too fake even for me, overall they did amazing with the blood and I'll give them 3 out of 5 stars for this category!
My Rating:

Kills
The kills were like NHA where it's minimal but doesn't make it worse and if I have to give the best kill to the Hammer, it was simple yet brutal, and I have to say having about 5 or 6 kills even in a Friday fan film isn't a bad thing and for me, it's about the brutality and with Zombie Pamela Voorhees did just that, along with her death by the hands of Alice Hardy (Again, ha)
My Rating:

5 out of 5 stars for me! I love seeing a body count!
Pros and Cons
AGAIN THIS IS MY OPINION!The Pros:


Jason design looks fucking BADASS!

No CGI that I could see whatsoever!

Jason using a chainsaw!

Surpising F13 Alumi's making an appearance.

Sequel build-up so we could get a Jason Rising 2!

No Mention of the Necronomicon ex mortis

A nice version of Part 2 is being reimagined.

Undead Pamela Voorhees!

Mother and Son killing spree.

The Cons:


Not enough of Undead Pamela Voorhees

Pamela Voorhees was killed off near the climax

Not enough bodies...

The Dick scene wasn't really necessary.  

My Official Rating
The verdict is in...

an exact 4/5 star rating for me! overall the movie has its faults BUT it was still entertaining for those who are a fan of Friday the 13th Part 4: The Final Chapter is worth giving a chance! and if you like Never Hike Alone the same man who acts as Jason Voorhees himself makes a Cameo!
Looks good can't wait for it to release!

OCT 31 1978

First Class




Gender :
Posts : 750
Join Date : 2020-11-03



OCT 31 1978 wrote:Looks good can't wait for it to release!
Same here! I backed the film as well!
OCT 31 1978 likes this post!

OCT 31 1978

First Class




Gender :
Posts : 750
Join Date : 2020-11-03



---
Permissions in this forum:
You
cannot
reply to topics in this forum